South Florida Boating Injury Attorneys and Boat Accident Lawyers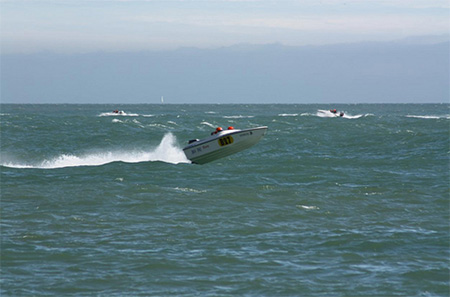 If you need to pursue a damage claim resulting from a boating accident in Florida, you need a boating injury attorney. But not just any boating injury attorney. With the complexity of maritime law you need a Board Certified Maritime & Admiralty Attorney like
Joanne Foster, Esq.
at Guy Yudin & Foster, LLP. to investigate, litigate, negotiate and resolve your boating accident claim.
South Florida may be the boating capital of the world, but unfortunately there are serious risks when heading out on the open waters. Boating accidents not only cause damage to watercraft, but boaters can be seriously hurt or even killed.
Most boat accidents are a result of operator inattention, careless/reckless operation, operator inexperience, operating at an unsafe speed, defective equipment, and failure to have a proper lookout.
Boat operators have a legal obligation
to operate their watercraft in a safe manner. The owners and operators of boats also owe a duty of care to appropriately warn their passengers of approaching dangers. If you or a loved one gets injured in a boating accident, you need a boat accident lawyer to determine who was to blame, and who is responsible for your damage claim.
The boat accident lawyers at Guy Yudin & Foster, LLP. can help you get fair compensation for all losses resulting from any type of boating or jetski (PWC) accident.
When you pursue a claim for compensation, the insurance company may offer you an out-of-court settlement. Before you accept it, be sure that you have talked to a boat accident lawyer like Guy Yudin & Foster, LLP., and that the money you are being offered is enough to cover all or your losses in full. If you cannot negotiate a settlement with the help of your boating injury attorney, then there may be no choice but to go to court.
Our boat accident lawyers will carefully investigate your case and use all resources available to ensure that a strong case is built so that full compensation can be recovered. Full compensation should cover all of the expenses related to the accident as allowed by the law. These expenses can include medical expenses, funeral costs, lost wage replacement, loss of support, and pain and suffering.
Among the types of cases our boating accident lawyers handle include:
Airboat Accidents
Boat Tenders Accident
BUI Accidents
Inadequate Boat Maintenance Accidents
Jet Ski (PWC) Accidents
Wakeboarding Accidents
Waterskiing Accidents
Kayak Accidents
Canoe Accidents
Inflatable Boat Accidents
To learn more or to schedule a free consultation with our
boating injury attorneys
, contact us online or call 772.286.7372 today.
RESOURCES:
Safeboatingcouncil.org
Engaging Victims and Survivors of Recreational Boating Accidents
The Boating Accident Report Database (BARD)
contains data on recreational boating accidents, which are reported to local district offices of the United States Coast Guard (USCG). Current regulations (33 CFR 173-4) require the operator of any vessel, numbered or used for recreational purposes to file a Boating Accident Report (BAR) if the vessel is involved in an accident that results in loss of life, personal injury which requires medical treatment beyond first aid, damage to the vessel and other property exceeding $500, or complete loss of the vessel.
Florida Fish & Wildlife Boating Accident Statistics
The Florida Boaters Guide
: A Handbook of Boating Laws and Responsibilities The Official Boating Handbook of the Florida Fish and Wildlife Conservation Commission