Florida Marine Surveyor Attorneys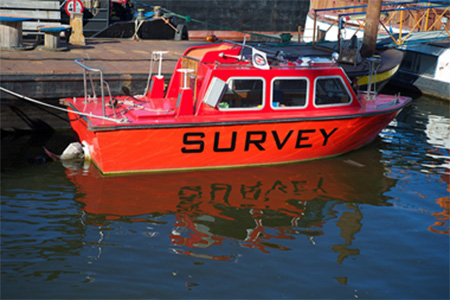 Typical marine surveyor tasks
Marine surveyors are greatly relied upon by the marine community to perform a wide range of tasks including:
Supervising the construction of vessels for owners;
advising clients on the condition and valuation of vessels;
monitoring the salvage of vessels;
acting as the eyes and ears of underwriters with respect to the cause, nature and effect of losses;
supervising the repair of vessels which have been damaged; and
providing expert opinions in court.
Many of Guy Yudin & Foster, LLP.'s clients are marine surveyors looking for ways to avoid litigation or who are already involved in litigation. Our Stuart law firm represents many marine surveyors up and down the east coast of Florida. We have long served as general counsel to the Society of Accredited Marine Surveyors (SAMS), and Partner Joanne Foster, Esq. teaches marine surveyor classes focusing on the best practices for marine surveying.
Marine surveyors mainly undertake two different types of surveys for clients. The first type of survey is a damage survey in order to document the nature, cause and extent of a marine loss. Vessel owners, cargo owners or insurers typical contract for this type of service.
Some of our client sub-specialize in different types of casualties and different types of vessels, for example, tugs and barges, cargo ships, fishing vessels or private pleasure craft. Still other marine surveyors specialize in diesel engines, electric or fire surveys.
When performing a damage survey, marine surveyors are usually retained by a vessel owner or cargo owner or their insurer. After surveying the damaged property, they issue a report reflecting the damage found and, if repairable, recommendations for repairing the damage or mitigating the loss. Although they examine damaged property, marine surveyors are not insurance adjusters and usually have no knowledge of any insurance coverage that might apply.
The second type of survey marine surveyors undertake is a condition and valuation (C & V) survey. The marine surveyor makes a thorough inspection of a vessel and issues a report reflecting deficiencies noted, recommendations for correcting the deficiencies, and replacement and market values for vessel. These surveys are generally associated with the purchase and sale of a vessel. These are the surveys which generally subject marine surveyors to liability, as the marine surveyor is normally the first to be blamed when an expensive boat breaks down.
Marine Surveyor Liability
Some courts have held the work performed by marine surveyors is subject to an implied warranty of workmanlike service as it is in other maritime contracts such as towing contracts or ship repair contracts. Breach of that warranty has led some owners to seek to impose liability on marine surveyors when there is a loss. Other courts have held the implied warranty inapplicable and used a negligence standard to determine liability. In either case, a finding of liability can lead to potentially devastating financial consequences for marine surveyors because many do not have professional liability insurance. One of the best ways to avoid this liability is to put proper language in a standard survey contract.
Representation of marine surveyors can be a complex. Protect your rights and speak with attorneys experienced in dealing matters unique to marine surveyors. To reach our Florida marine surveyor attorneys
contact us online
or call
772.286.7372
for a free evaluation of your case.