Property Rights Lawyers in Stuart, Florida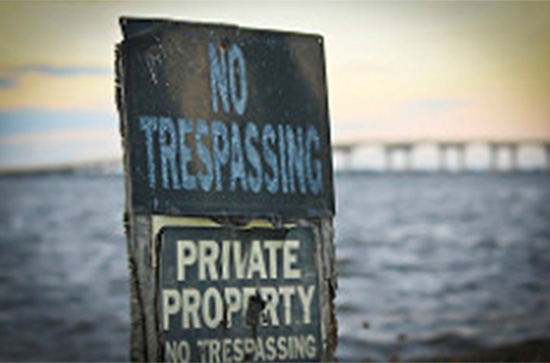 Property Rights in Florida
Property rights are protected in Florida by the
United States Constitution
,
Florida Constitution
and the
Bert Harris Jr. Act
. Despite these numerous protections, private property rights are constantly under attack from a variety of sources including the government and neighboring property owners.
Property Rights disputes in Florida generally can be separated in to two separate categories:
Property disputes with a neighbor; and
Property disputes with a governmental entity
Both of these areas of property rights disputes make up an important part of our practice at Guy Yudin & Foster, LLP.
Property disputes with a neighbor
Generally speaking the majority of property disputes involving neighbors include:
Title disputes
Boundary disputes
Adverse possession and quiet title actions
Easements
Broken/breach of transaction
Infringement issues (improper use, setbacks, nuisances, property damage, etc.)
Leasing disputes
Commercial landlord-tenant disputes
Homeowners association (HOA)/condo association issues (covenants, CCRs, etc.)
Tenancy-in-common issues
Water rights disputes (riparian rights, waterfront property disputes)
Our attorneys are experienced in resolving all of the above described types of property rights disputes without litigation. However, when reasonable minds cannot agree on a amicable solution to a property rights issue, litigation is frequently the only course of action. Our firm has a reputation as experienced and respected litigators who can provide strong representation to meet the needs of our clients when litigation is the only solution.
Call 772.286.7372 today to speak to one of our property rights lawyers in Stuart, Florida, or
click on the link to contact us
about your property rights dispute.
Property disputes with a governmental entity
The
United States Constitution's Fifth Amendment
provides:
"No person shall be... deprived of life liberty or property without due process of law; nor shall private property be taken for public use without just compensation"
Perhaps the best explanation of the purpose meaning of the 5th Amendment is found in
Armstrong v. United States
(1960), where the United States Supreme Court said the 5th Amendment is;:
"designed to bar Government from forcing some people alone to bear public burdens which, in all fairness and justice, should be borne by the public as a whole."
In far too many instances today, governmental regulations do just the opposite by trying to force certain unfortunate individual property owners to bear public burdens resulting in:
Development disputes
Disputes with municipal authorities
Regulatory and governmental takings cases
Land use disputes (municipal/county zoning, permits, conditional use, etc.)
Our experienced, dedicated legal team is ready to help clients by fighting both tough and smart. We maintain a high degree of professionalism and ethical standards and are results-oriented - we keep the goal of obtaining the best possible resolution in mind at every phase of a property rights case. To that end, we will make use of negotiated settlements, mediation, or litigation whenever possible.
To discuss your case with our property rights lawyers,
contact us
online or call us at
772.286.7372
.