Riparian Rights Attorneys in Florida and Waterfront Property Lawyers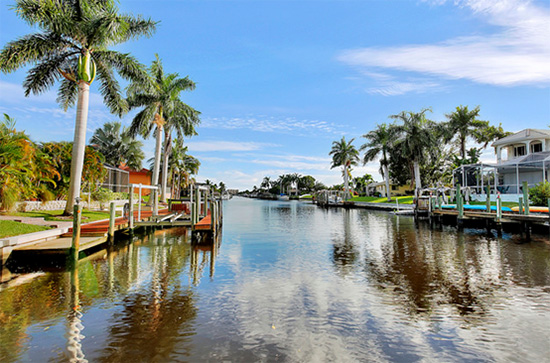 If you own waterfront property in the State of Florida then you probably have riparian rights.
Riparian rights are rights to use the water and nothing more. They are merely a preferred right of purchase, and do not convey any title. Riparian rights include the right of ingress and egress, wharfing, boating, bathing, and fishing and such others as may be or have been defined by law.
In Florida most riparian disputes involve either the right to view, encroachments or access disputes. Right to view disputes arise when a structure blocks or obscures a neighbors view of the water body. Encroachment disputes normally arise when there is uncertainty regarding the location of riparian lines for adjoining properties. Access disputes normally occur when there is confusion as to whether a non-riparian party has deeded water access over a riparian owners property.
Riparian rights law is a unique subset of real estate law and presents a diverse set of challenges to be addressed in each case. Our experience has shown that all too often, waterfront property disputes end up in court when riparian owners resort to "self-help" before seeking legal assistance with a riparian or waterfront issue. This "self-help" normally takes the form of removing a dock, tearing down fences or erecting obstructions to block a neighbors view. In most instances, this type of "self-help" only serves to exacerbate the problem expediting the commencement of expensive litigation.
In contrast, over the years our Florida riparian rights lawyers have been able to resolve many riparian disputes without expensive litigation when we are consulted before a waterfront property owner resorts to "self-help". It therefore goes without saying that with any riparian or waterfront issue you should always seek experienced legal advice before resorting to "self-help". Guy Yudin & Foster, LLP. has been satisfactorily resolving riparian disputes and waterfront property disputes throughout Florida since the 1980's. We have experience solving the following types problems:
Encroachments
Administrative proceedings
Trespass
Access rights
Dock disputes
Upland boundary disputes
Governmental regulation of riparian uses
Governmental denials of permits
Restrictive covenants/deed restrictions
Issues concerning public access or other public rights
Document review prior to property purchase
Easements
Litigating riparian rights issues
Quiet title actions
Two ways we can assist you with your riparian rights law or waterfront issue.
First, we have extensive and broad-based experience enforcing, protecting and defending the rights of our clients in the Florida courts and administrative forums. If you own waterfront property and you have a dispute with a neighbor or the government, we have the skill and knowledge to vigorously and successfully enforce your riparian interests in legal and administrative proceedings.
Second, we handle all types of real estate transactions. We have the unique understanding needed to assist you when buying or selling riparian property. Whether you are buying or selling, we provide the personal attention necessary to assure your transaction is satisfactorily completed. We can also assist clients in the preparation of a riparian agreement or docking agreement.
Additional Riparian Rights links
Florida Department of Environmental Protection
Guidelines for Riparian Allocations for dock permits in Florida
Florida Statutes Section 253.141
Statutory definition of riparian rights in Florida
Nature and Status of Riparian Rights in Florida
University of Florida academic paper on riparian rights
For a free initial consultation with an experienced riparian rights law and waterfront property law attorney call us today at
772.286.7372
or
contact us online
.